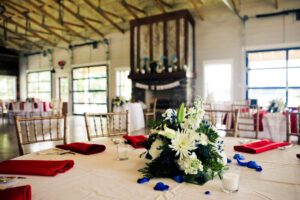 Do you need a facility for your reunion, birthday party, baby shower, or other social event? The Rivers Ranch is the perfect location. With a picturesque view of the lake and the cattle out any of the roll up glass garage doors, our venue can accommodate your party up to 299 people. Utilizing the large covered patio across the back of the barn, inclement weather isn't an issue at The Rivers Ranch.
Our social rentals include use of the barn and the terraced lawn, seating for 150 people with round tables and gold chivari chairs, 2 6-foot wooden bars, a parking attendant, and a security guard (if alcohol is onsite). We do allow you to use your own licensed caterer as we have a nice large prep kitchen. Bring your DJ or Band as the acoustics in our venue are great.
If you would like to set up a tour of our facility or if you have any additional questions, please contact us at 770-775-1622.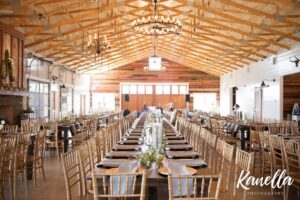 Our pricing is based on peak vs regular seasons. Our peak seasons are March thru June & September thru December. 
$
3500
Regular Season: $2700
Fridays & Sundays
Peak Season
$
2500
Regular Season: $2000
Monday - Thursday
Four Hours
Social event packages include